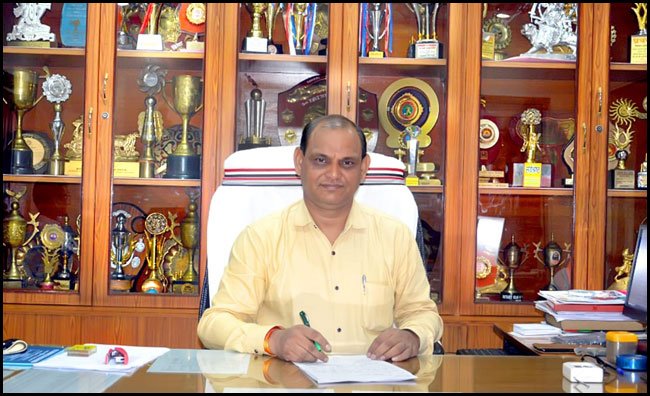 Dear Viewer,
As Francis Bacon has well said "Read not to contradict, nor to confute; but to weigh and consider." In our tradition it is "SWADHYAYA NAAM NA PRAMADITAVYAM" AND "YANI ANAVADYANI KARMANI SEVITAVYANI NO ITARANI". It becomes necessary to weigh and consider whatever we face, learn, guide, educate, administer or follow in our daily life, should be applied and practical. Our young minds are highly considerate, thoughtful, hard -working, well nurtured and obedient as they are the fountain head of the nation. They should be perceived in such a manner that they could make their nation great.
Our Rajkamal Saraswati Vidya Mandir has been working since 1978 and trying its best to create best talent from every area by giving equal opportunity not only in the field of academic excellence but in various areas also i.e. CCA, Sports, Physical and Health Education and trying to bring out hidden talents who are excellent and can do the best. In these years RSVM has proved its vision and mission that can be seen through the outcomes in nearly every field. Our stakeholders are well planned for their academic excellence and success in various areas. The glorified, achieved medals and cups are the land marking examples of success by our students. We are fostering our children and preparing them in such a manner that could easily face the coming challenges of life. We are educating them not to come only with problem but with a proper solution also. We, the school, are preparing our young minds to be curious and interested to apply three words i.e. Think, Act, and Hope. For these particular ideal of life we should try to become very particular in our life as it is well said "Action without thought and thought without action are folly."
Today the scenario is changing very rapidly and it becomes evident for schools to be very particular while imparting education to young minds. It is not only to educate someone but to make them responsible for the various tasks may come further in their life. It is required to create a sense of allegiance and affinity among the children for the country that they could attach themselves with our cultural and traditional values. We are in the process to create such a holistic environment where every child becomes important, valuable and special and; is given equal opportunity to excel and explore their excellence without any kind of fear.
Our approach is not only to inspire students to score good marks but to make them a good citizen of the country filled with fellow feeling, sympathetic balance, deep understanding, witty, apt and up to date to take on today's critical situations smoothly.
Mr. Sumant Kumar Mishra
(Principal)